INSTALLATION INSTRUCTIONS FOR NET-GLUED MOSAIC
When buying, make sure that all mosaic boxes come from one production batch / fire color. Check the mesh bonding on the back and remove any excess adhesive residue. Complaints about goods must be made before relocation.

A) Make sure the wall is clean, firm, dry and smooth. Apply a layer of suitable tile adhesive evenly with a 3.5 mm notched trowel. For outdoor or permanent wet areas (facades, terraces and swimming pools) we recommend a 5 mm spatula.
B) Take the mosaic mat out of the box. Press the mosaic mat against the wall while slowly rolling the mat into the adhesive. Always carry out a trial installation - including grouting - with a mat. Only continue laying the mosaic if it is approved.
Always remove the mosaic from different boxes.

C) Press the mosaic mat against the wall with a rubber board (the net remains in the adhesive) and level the stones.
D) If the mosaic mat is firmly glued on, join it with a grouting board and suitable grout. Only grout small areas and clean them promptly.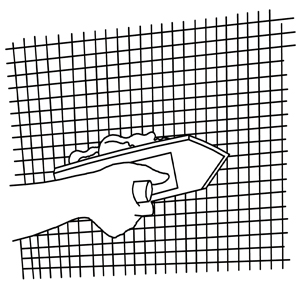 E) Then clean the mosaic surface first with a wet sponge and then with a dry cloth.
F) Done.
Note: Use a white marble or granite adhesive and a flexible grout when laying and grouting glass mosaic. Always observe the processing instructions of the manufacturer of the tile adhesive and grout used.
Some glass mosaic series have a slightly structured or porous surface. When grouting this mosaic, residues of the grout can remain in the tiny pores and give the mosaic surface a "highlight or streak effect". A reduction of this effect can only be achieved by thorough cleaning immediately after grouting. A clay-like grout also reduces this effect, while a stark choice of colors for the mosaic and grout (e.g. anthracite) emphasizes the effect.
If glass mosaic is to be laid in permanently wet areas (e.g. swimming pool), it is essential to use a paper-bonded mosaic on the front.