Natural stone for stylish palisades and exclusive garden design
Natural stone impresses with its exquisite and high-quality appearance. Due to the weather-resistant and robust properties, natural stones in various designs are used in palisade and garden design. Basalt and granite, sandstone or porphyry are particularly popular in garden design, terrace fencing or property delimitation.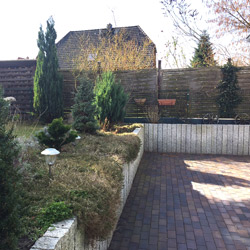 The stable and high-quality natural stones are easy to clean and impress with their natural grain and surface appearance. With a glossy design or a matt finish, they give the property a special flair and highlight a designed area. Whether rustic or Mediterranean, with a smooth surface or in an untreated and sharp-edged version, with natural stone the garden design becomes an enchanting detail for every lifestyle. Natural stone is frost-proof, immovable due to its weight in wind and weather and can be ideally integrated on any property. Especially in the area of palisades and curbs or the design of sidewalks, natural stones have established themselves and are preferred to artificially produced materials.
You will find different lengths and heights, different strengths and a rich portfolio of designs. In modern garden design, you can choose palisades from one type of natural stone or opt for a decorative contrast in a combination of different types of stone or designs. The fact is that you have very little maintenance and cleaning effort with natural stones. You can clean the surfaces with water or steam and be sure that the structure will not be damaged. Natural stones also give you a lot of leeway in the areas of application for stylish garden design and are suitable for much more than just being used as palisades. In natural stone, elegant designs are combined with practical properties and give you the opportunity to implement creative ideas in stone and to underline the natural aura of your garden. Thanks to the different colors and structures, you will find the right palisade for every requirement and you can implement your garden design according to your own taste and preference for a type of natural stone.