WORTH KNOWING ABOUT THE TILE
Floor and wall tiles - robust for everyday use


THE TILE - FROM ANCIENT TIME TO THE PRESENT
The first clay objects were made around 30,000 years ago; but it took another 20,000 years before humans were able to produce objects of daily use out of ceramics (Greek: Keramos). The oldest finds date from around 9,000 BC. They were found in the Upper Nile Valley in Egypt. The first glazed tiles were used as wall decorations in the ancient Egyptian pyramids (approx. 2,600 BC) and were then quickly spread in Persia, among the Assyrians and Babylonians. In Europe, the tile became popular from the 14th century. The Delft faience factories became particularly well known. "Delft tiles" are valued all over the world to this day. Ceramic tiles were only used as wall and floor coverings in Germany around 1000 years ago. At first only in castles, palaces and churches. Only princes and kings could afford this luxury. Today wall and floor tiles have become an integral part of our daily lives. Thanks to industrial production methods, the luxury item has become a commodity.


PRODUCTION AND TYPES
The composition of the raw materials used has not changed much since ancient times. The clay for wall or floor tiles is still the basis of these building ceramics. Other mineral raw materials are added to the clay, e.g. quartz, kaolin and feldspar. In some cases also dolomite, fireclay or calcite. The types of tiles differ greatly from one another in terms of quality; the type, composition of the raw materials and their processing are decisive for the wall tile or floor tile. The raw mass obtained in this way is pressed - fine ceramic masses in the so-called dry pressing process, masses for coarse ceramics in the extrusion process - and then, after drying, fired at temperatures between 900 and 1200 degrees Celsius. We differentiate between single-fired and double-fired tiles. While single-fired tiles only need one firing process to create the shard with the glaze, double-fired tiles are characterized by the fact that first the shard and then the glaze are fired in two different work steps. The tiles produced in this way are divided into 3 main types: stoneware tiles, stoneware tiles and porcelain stoneware tiles.


Earthenware tiles
are glazed ceramic tiles. They are used exclusively as wall tiles. Their transparent or opaque ceramic glaze is usually melted in a second firing process. These wall tiles have a high water absorption of approx. 20% and are therefore only suitable for indoor use.
Stoneware tiles
are glazed or unglazed tiles that are manufactured using the one-firing process. Stoneware tiles have a low water absorption and are more solid in the material than stoneware tiles. The water absorption is below 3% and the stoneware tiles are classified as frost-proof, but laying outdoors is not recommended. Accordingly, the stoneware tile is suitable as a wall tile.
ATTENTION: Wall tiles should never be used as floor tiles. Your glaze can be easily damaged, for example, by falling objects, which can flake off the glaze.


Porcelain stoneware tiles
Porcelain stoneware tiles are finely prepared tiles with extremely low water absorption of 0.5% and are therefore considered frost-proof. (DIN EN 176 - group B1). Due to their material composition and high firing temperature, they are very hard and resistant. You can use this tile as a wall tile or as a floor tile. Porcelain stoneware tiles are available in the following variants:
Glazed porcelain stoneware:
The wall or floor tiles are most often sold glazed. The glaze determines the surface properties and thus also the abrasion, ultimately it also determines the quality of the wall tile or floor tile.
Unglazed porcelain stoneware:
This type of wall and floor tile is the so-called fine grain (salt & amp; pepper look) most commonly represented and available at reasonable prices. High quality tiles such as marble or imitation granite also fall into this category. They are technically superior to natural stone, insensitive to dirt, can be cleaned easily, are hard-wearing and have little surface wear.
Polished porcelain stoneware:
In this process, additional work steps are carried out and the wall tile or floor tile is polished to a high gloss in several stages. Mostly unglazed porcelain stoneware tiles are polished, but increasingly also on glazed porcelain stoneware which produces a polished glaze. The wall tiles or floor tiles are glossy, but less resistant to scratches. Polished glazes are not recommended in heavily used. By polishing, closed pores in the tile are reopened during the firing process and foreign substances, dirt, fats or oils can penetrate. Impregnation of this wall tile or floor tile is a prerequisite.
COMMON NORMS AND STANDARDS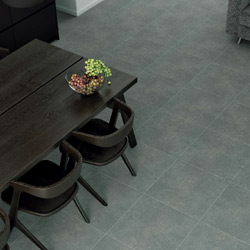 Abrasion classes
The wall or floor tiles are divided into the following 5 abrasion classes:
Class 1: The floor tile for rooms with light traffic, e.g. the barefoot and slipper area in bathrooms and bedrooms, sanitary rooms or suitable as a wall tile.
Class 2: The floor tile for rooms with medium use, through normal footwear such as the general private living area (except kitchens) in the living and dining rooms, stairs and terraces.
Class 3: The floor tile for rooms with moderate traffic and can be used in the entire living area, e.g. in hallways, as well as on terraces and balconies.
Class 4: The floor tile for rooms with high traffic, e.g. in house entrances, kitchens, work and utility rooms.
Class 5: The floor tile used for the highest demands in all rooms and on surfaces that are extremely stressed, such as shops, hotels, restaurants, garages, industrial laboratories and similar areas.


Surefootedness
In contrast to commercial areas, in which standards are prescribed for the laying of wall or floor tiles, these do not exist in the private sector. But what is prescribed and recognized as correct for commercial areas cannot be wrong for the private sector either. We would therefore like to familiarize you with some of the commercial regulations below. Depending on the angle of inclination (slope) of the floor tiles to be laid on the surface, different evaluation groups apply: from 3 to 10 ° (R9), 10 - 19 ° (R10), 19 - 27 ° (R11), 27 - 35 ° (R12) and over 35 ° (R13). The evaluation groups deal with a low, normal, increased, large or even very large "coefficient of static friction". The floor tiles to be laid must meet the specified requirements - be sure-footed. If greasy, "pasty" or fibrous-viscous substances can get on the floor (e.g. in slaughterhouses and petrol stations), the floor tiles must have a "displacement space", which is assessed according to four V classes. In order to define the risk of slipping, the Federal Association of Public Accident Insurance Institutions (BAGUV) has divided wet barefoot areas into three assessment groups. Here, too, the angle of inclination is the measure of slip resistance and leads to the allocation of the floor covering to assessment groups A (minimum angle of inclination 12 °), B (minimum angle of inclination 18 °) or C (minimum angle of inclination 24 °). Incidentally, despite the definition of the angle of inclination, the evaluation groups only apply to flat floors. So if you want to tile a sloping floor in wet areas, you have to make even higher demands on the slip resistance of the floor covering.
"Largely dry barefoot aisles", "changing rooms", "largely dry sauna and relaxation areas" etc. must be equipped with floor tiles of assessment group A. Assessment group B is to be used for largely wet barefoot walks, for pool floors of various types and for paddling pools. Finally, rating group C is a requirement for stairs or so-called walk-through pools that lead into the water.


PRACTICAL TIPS
The choice of wall or floor tiles according to shape and color is of course a matter of taste. However, practical and safety considerations should not be disregarded when buying. So please remember: Floor tiles on balconies and terraces are exposed to particularly high stresses from the weather (solar radiation, temperature fluctuations, moisture). You have to be frost-proof. Balconies and terraces are wet areas. Stairs can be covered with different floor tiles. Surefootedness is particularly important here. Stairs are always a source of tripping with a high risk of slipping. The tile trade offers you all the tools, accessories and information you need to lay the floor tiles yourself. However, laying is often not entirely unproblematic for laypeople, especially in wet areas and on stairs. Therefore, please also consider whether you would like to have the work carried out by a trained specialist - with a guarantee according to VOB.
Please do not hesitate to contact us if you have any questions
Your Mosafil team