Stoneware tiles are ceramic tiles.
The ceramic glaze of the wall tiles can be transparent or opaque. It is often only applied in the second burning process. The surface of the wall tiles can vary. Since these tiles are not frost-proof, they are only suitable for indoor use. The properties of earthenware tiles include the ability to absorb more than 20 percent of the weight. Since the shards of the tiles are soft, it is easy to cut the wall tiles.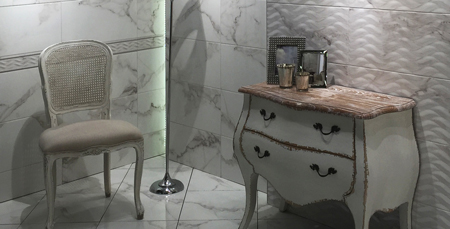 The manufacture of pipe penetrations or recesses and other work is particularly successful with the earthenware tiles. The glaze protects the tiles from common household soiling and acids. It also makes cleaning the wall tiles easier. Earthenware tiles in the form of fine ceramics are produced in various processes, for example in the heavy clay, dry or extrusion process. After this process is complete, the glaze is applied to the wall tiles. The burning process takes place at temperatures that are between 850 and 1,000 degrees high. Sintering does not occur at these temperatures, which is why the shards of the tiles are porous. The ingredients of the earthenware tiles include feldspar, kaolin, quartz, chamotte and clay. These substances are ground and then mixed with water. Therefore, the use of earthenware tiles in areas that are subject to high mechanical loads is rather unfavorable. For this reason, these wall tiles should be installed indoors.

Earthenware tiles are often used in the entire wall area,
especially in toilets or bathrooms and other wet rooms. The shards of the wall tiles are white to yellowish or even reddish. Due to their ability to absorb a lot of water, the tiles are not suitable for outdoor installation, as the water would cause them to explode in frost. The wall tiles have been used again and again for a long time to equip walls in the kitchen or bathroom with them, as they perform best in damp areas of the interior. This is because their surface is sealed. As a result, the edges of the tiles and the underside can only absorb very little water during installation. Since the glaze of the tiles is soft, you should they are spared. The special advantages of these wall tiles include their high dimensional accuracy, as they have a narrow joint, the excellent decorative ability and the wide range of possible uses.

If you want to apply stoneware tiles, you should check and prepare the surface before tiling. The surface must be clean, level, stable and dry, cracks or Use a trowel to smooth out any unevenness when laying the stoneware tiles. Prime the surface before laying the wall tiles. In wet rooms or rooms with high humidity, barrier primer is suitable for processing the tiles.