Metro tiles are perfect for your vintage / retro design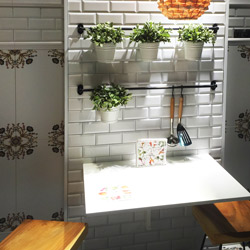 Metro tiles are a style of wall tile that was first used around 1900. These simple, rectangular classic tiles were used for the first time when the Paris Metro was built. A trend quickly developed from this design, which is extremely popular when it comes to laying wall tiles and has now gained enormous importance in a period where vintage and retro are chic.
The advantages of metro tiles are versatile.
Their versatile dimensions and the flattened edges are a typical feature of these wall tiles and contribute to their unique charm. In terms of color, you can let your imagination run free and tend between white, cream-colored, strong orange or green, black, red and candy-colored tiles. In their origin, the classic metro tiles were presented primarily in muted candy colors, which also reveal their charm in modern bathroom and kitchen designs. Metro tiles, which are prefabricated on a plate, ensure particularly easy installation. The size of these wall tiles is smaller, which means that they bring out the retro chic particularly intensively. The bevelled edges require a small modification from classic grouting so that this special feature comes into focus. Place the edges of the tiles very close together and draw only a thin joint so that the height difference of the tiles is recognizable and creates the typical wall picture with metro tiles.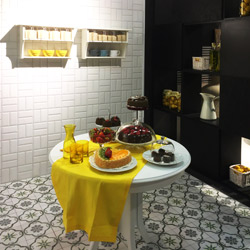 If you prefer classic wall tiles,
you are well advised with subtle colors. Alternatively, you can mix different colors and create a colorful tile picture. Black and white in particular, but also black and orange or red harmonize very well with one another and can be used together. The classic stripes in the Paris Metro, but also unusual murals can be designed with Metro wall tiles. The Subway Flair can be used perfectly in bathrooms and kitchens in industrial chic or in a rustic design with a vintage look. Also in combination with a modern interior, metro tiles are convincing. With the magic of times long past, they attract attention and catch the eye in the room. In terms of cleaning, these wall tiles do not differ from modern models, so that you can clean and clean tiles as usual.