Self-adhesive tiles - quickly and easily lay wall and floor tiles
You want to decorate your bathroom, the kitchen or a room with beautiful tiles. Do you lack the necessary experience or would you like to save time and do without the cumbersome gluing of the tiles? The solution could be self-adhesive tiles. But before you buy such wall tiles, floor tiles, self-adhesive kitchen mirrors or a pretty mosaic, you should find out about the products thoroughly.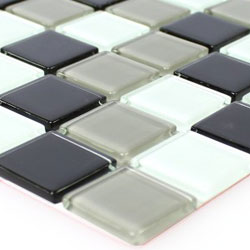 Self-adhesive tiles are made of a wide variety of materials and material mixtures.
There are, for example, tiles with an adhesive coating made of aluminium/plastic, crystal/stone, crystal/stainless steel, glass, acrylic glass, natural stone facing bricks, self-adhesive vinyl tiles. In addition, you will find tile decorative films in various designs or with a mirror surface for the bathroom or kitchen mirror on the wall tiles. Most self-adhesive products are wall tiles. But you will find the sure-footed mosaic, floor vinyl tiles and material mix with natural stone for floors. Some self-adhesive tiles are not suitable for wet rooms. Always read the entire product description carefully.
For the bathroom or kitchen mirror, you can either use mirror decors that are glued to existing tiles or attach mirror tiles. Glass mirror tiles are available with an adhesive coating or adhesive strips. For example, you can optically enlarge the small kitchen with a kitchen mirror above the worktop or give the bathroom optical depth. In contrast to the kitchen mirror made of glass tiles, mirror and other tile decors are made of self-adhesive foils. These are very suitable for redecorating wall tiles and are also water and scrub resistant. You can also find the decorative mosaic as self-adhesive wall tiles made of glass, acrylic, crystal/stone and other materials as well as decorative foil. Self-adhesive tiles as a mosaic are drawn on a grid and provided with an adhesive layer. You can therefore attach the self-adhesive mosaic just like the rectangular tile quickly and easily. Self-adhesive tiles can easily be laid on the wall and floor (depending on suitability) without joints or with joints. The substrates should be clean, dry and perfectly smoothed.