In the wall cladding on and in the house you have
a wide range of options and can work with different facing bricks or tiles. Wall bricks provide a natural stone look and make the house appear very harmonious and homely. In order to underpin the visual advantages of the wall cladding with high quality, a professional installation of the wall bricks or tiles is necessary. There are no limits for your imagination when deciding on a design or a material for the wall cladding and you have the option of working with different shapes and surfaces, as well as various accents, and making wall bricks or tiles an eye-catcher.

A big advantage of wall cladding is
easy cleaning thanks to a washable surface. Glazed tiles and wall bricks are suitable for outdoor use and withstand all weather conditions. But also in damp rooms, tiles are the primary wall covering with advantages. In addition to the exterior design of the facade, wall bricks also have decorative accents in the interior of houses and apartments and emphasize certain areas. The stone look creates a cozy, Mediterranean flair and is a very modern and innovative wall covering in hallways or living rooms.
There are various reasons that speak for wall bricks and tiles as wall cladding
and ensure the longevity of the wall cladding with regard to the highly resilient quality and sustainability of the materials. When it comes to tiles, you can always opt for modernization with a new color scheme and have therefore chosen wall cladding that can be adapted to any new style of living and all preferences for a design. If you use wall cladding, you should consider the design in advance and only choose the wall cladding if you are certain about the attractive effect and you are aware that wall cladding is permanent wall cladding and is difficult to remove. Instead of plaster, wall bricks can give the house a clean and individual, classic or timeless brick or sandstone look and even support the heat-insulating properties when installed correctly.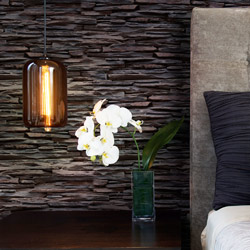 Wall cladding made of natural stone
Wallpaper and plaster no longer play the major role in wall cladding, which a few years ago considered them to be of primary importance. While tiles used to be found only in bathrooms or kitchens, the variety of surfaces and shapes, as well as the creative processing options, have increased the option of use and made tiles a popular and popular wall covering. Both tiles and wall bricks are water-repellent and protective wall cladding. Tiles can be easily washed off with a damp cloth or easily cleaned with a Kärcher. If tiles and wall cladding are used to decorate the outer facade, contamination of the facade by using tiles and wall cladding can be excluded and an active contribution can be made to thermal insulation. Tiles and wall bricks are the wall cladding for you if you place high demands on the quality and effect, on the material and the design.
It is advisable to have wall cladding and tiles installed by a specialist
and have them professionally attached to the substrate. Since wall bricks and tiles are a permanent wall covering, you should not make any compromises when installing them and make use of the professionalism of the specialist.