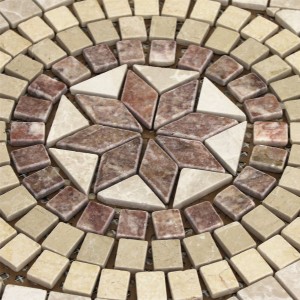 What are rose petals?

Many small parts are made up of the finest precision work, which at the end result in a pattern or picture, the so-called rosons. The roses, also called inlays, are made of natural stone, marble or porcelain stoneware. The size of the individual elements are usually not larger than 1 x 1 cm and form an overall picture, the fine work of which is unmistakable. The special thing about these floor tiles is their surface, the different materials result in different structures of the roses / inserts. It is the same with the colors, the individual stones make the inlays a play of colors of the nuances


Set highlights with natural stone tiles
The special type of tile sets fresh highlights and is eye-pleasing. Whether large areas or small rooms, you can set individual highlights with the roses / inserts. With roses made of natural stone tiles, flooring becomes a small living dream. Rosons / inserts are also suitable as wall tiles, here you get a splash of color and give a harmonious ambience, especially in the bathroom. A little holiday feeling at home. Regardless of the picturesque eye-catcher, rose / inlay floor tiles loosen up the overall picture. Mostly, floor tiles are laid tone on tone, which often looks rigid and cool, with the roses / inserts as floor tiles, the floor is loosened up optically, which is not only a successful floor covering in your own home, but also in your own pool, the natural stone tiles bring holiday feelings that are relaxing.


Patterns and colors
Whether wall tiles or floor tiles, patterns and colors of the roses / inserts can be selected as flexibly as floor tiles in general. On request, the wall tiles or floor tiles can be made, or you can have a look around the available offer. The Mediterranean style is unmistakable for all roses / inlays and gives you a feeling of warmth and comfort as soon as you look at it. Rosons / inlays made of natural stone tiles in the entrance area look very impressive. The entrance area of a house is the figurehead and the first room that you will also enter. Many underestimate its effect on wellbeing, but the room is indeed more than just a hallway. The entrance area and its furnishings can have a positive or negative impact on well-being and who doesn't want a home that exudes harmony and warmth from the very first step?


The Bathroom
A place to relax, relax and dream. Like the hallway, the bathroom is often underestimated. We don't spend most of our time in the bathroom, but if it is, it's a time to devote to your body and soul. A relaxing bath or shower. Wall tiles and floor tiles made of roses / inlays in appropriate warm colors can make a big difference here. Natural stone tiles with patterns also provide a pleasant indoor climate and help to switch off from everyday life and to be able to relax. Rosons / inlays made of natural stone tiles make the bathroom, together with corresponding wall tiles and floor tiles, a place where you can relax and recharge