Strappy | Design your house or apartment with a clinker look
Clinker brick facings give the facade or an interior wall a special charm. You can create the natural stone look in brick design without your property being built of bricks. Because with facing bricks you use a subsequent cladding, in which the straps are attached to the substrate with a special adhesive.
What you need to consider when buying
Pay attention to the properties when buying, as not all straps are equally suitable for indoor and outdoor use. There are facing stones in different colors and optics that you can only use in the house. For facades you will also find a large selection in natural stone optics and can clinker your house brick-red, brick-orange, gray, black or sand-colored and in many other shades, straps for indoor use are made of plaster and are not weatherproof, but very light. Clinker brick exterior facing bricks are made of weather-resistant natural stone or porcelain stoneware and are a little heavier. Depending on the type and shape of the edge, you can use straps seamlessly or with a visible joint. To achieve the true-to-detail clinker look, use joints and close them with grout afterwards. Above all, sandstones or some other straps with a natural stone look have a non-flat surface and optically broken edges. You can lay them seamlessly and create a particularly graceful natural stone look inside and outside.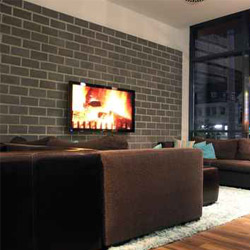 Care and cleaning
Indoor facing bricks are cleaned with a wet cloth and detergent. Facade bricks can be cleaned with a high-pressure cleaner and freed of moss, algae or other particles. You have the choice between numerous colors and surfaces, while the size of classic strappy stones is standardized and thus identical despite the color differences. When processing various bricks with a clinker look, note that the height of the facing bricks is the most important unit of measurement and primarily responsible for a smooth and professional wall surface