Wall cladding self-adhesive

Self-adhesive wall facings revolutionize the market for wall facings and bring all the properties of conventional wall facings with them. Peel-n-Stick is a
self-adhesive
and at the same time an ultra-light natural stone wall brick. The surface consists of 100% natural stone, which makes it hard and durable. A reinforcing plastic coating gives the whole thing its unique durability and a certain elasticity.
Overall, the product consists of four different composite layers. A natural stone surface, a binder resin layer, a fiberglass layer and the self-adhesive adhesive layer. This combination makes it extremely easy to install.
Application and worth knowing

Before you glue the wall cladding you must make sure that the surface to be glued is smooth, dry and free of dust, grease and other dirt. After you have made sure that the surface to be glued is ready to go. You can cut and adapt the self-adhesive wall cladding with a pair of tin snips as required. Now only Peel off the protective film and stick on the desired wall.
all Advantages at a glance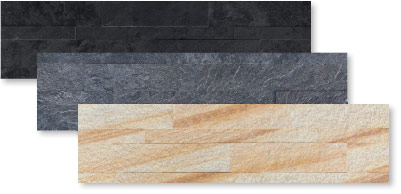 100% natural stone surface
ultralight, durable and flexible
durable and easy to maintain
self-adhesive - no mortar or tile adhesive required
simple, quick and clean installation
quick and easy to adjust (with tin snips or similar)
Easy installation: less time and effort means less costs
Individual design options thanks to easier processing