Wall tiles made of metal-look mosaic
Find something special for your own four walls? Do you want to stand out from the standard houses? remember Terracotta tiles and clinker tiles on grandma's house? Do you want durable and unique wall and floor design that even after years of none of their fascination have lost? Then you should have a look Thoughts about tiles made from high quality mosaic tiles Make metal. Mosaic tiles have been around for a long time individual design ornament in the interior. But with metal Mosaic you are on the exquisite side. Matt shiny and noble, they catch the eye and convey a feeling of luxury and noblesse.

Metal mosaic is exceptional
Tiles made of metal Mosaic enchant your living area with their shiny surfaces, which light reflections or Reflect sunlight in the most wonderful way. The brushed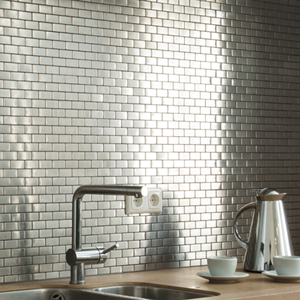 Metal mosaic tiles
gives metal mosaic every room a modern and luxurious The atmosphere. It is possible to use the mosaic tiles to be laid as wall tiles or mosaic tiles on the floor. Our high quality metal mosaic is made with high quality backing material made of ceramic, which is glued to a net, which the The tiles can be laid quickly and easily. With that you get a hard-wearing wall or floor covering that so will amaze some of your guests. Because who has a complete wall made of silver or gold Seen mosaic tiles?

Our mosaic tiles available in brushed silver or Gold metal mosaic. So transform your space with the help of a metal mosaic in true, sparkling and noble Treasuries. Play with color, light and shadow, which are different reflect on the mosaic tiles or get creative. Connect the two precious metals in the metal mosaic by using a gold colored one Put the border together with silver mosaic tiles. Here are no limits. Whether vertical borders, vertical ones Stripes or filigree ornaments - there are no limits to your imagination set. The more imaginative you free your creativity here Let go, the more unique your home will be.

Metal mosaic as a kitchen mirror
Do without in your Kitchen to the old, simple Tiles with coffee cups and coffee grinder ornaments above the worktop and use the cool, clinical and clean charm of mosaic tiles Stainless steel. Your kitchen has never looked so clean and pure solely through the optics that make up a metal mosaic. But also one Shower or even an entire bathroom in metal mosaic conjures up everyone A new sparkle in the eyes tomorrow. Forget about that white high gloss tiles on which you can see everyone Saw scratches. A metal mosaic not only brings a new one, unique appearance in your home that are metal tiles also extremely robust and resistant. Opt for a metal mosaic as the flooring and a falling toothbrush tumbler will no longer do that for you Driving sweat of fear on your face. Where large ceramic tiles simply shattered and showed bad cracks, a metal mosaic remains completely unimpressed. Simply transform your bathroom into yours personal magic place. With metal mosaic tiles You can do it in no time and you can do it for years Make someone happy.