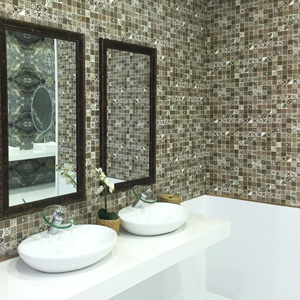 Porcelain stoneware mosaic tiles
Porcelain stoneware mosaic can be used in many places
Unglazed Porcelain stoneware used for porcelain stoneware mosaic, is ideal for at home and also for Areas with commercial use. The porcelain stoneware mosaic is perfect for shower trays. Since it has an unglazed surface and a high proportion of joints is the mosaic ideal for areas where slip resistance is required. For example, floor tiles in shops, restaurants and wellness areas and also swimming pools are relocated. The porcelain stoneware mosaic show no visual difference between stoneware and porcelain stoneware mosaic. The tile adhesive is particularly important, especially with porcelain stoneware. The unglazed porcelain stoneware comes in a lot beautiful natural tones or in plain colors or pepper and salt colors. The mosaic in pastel shades gives one beautiful decoration, especially with the tiles and wall tiles. Porcelain stoneware tiles can be used universal. For indoor and outdoor usage they are ideal because they are frost-resistant. Porcelain stoneware tiles are available polished, glazed or unglazed. Unglazed, they are suitable as floor tiles because of the risk of slipping is inhibited.


A mosaic with resilience
Especially in the last years the trend towards printed or glazed comes again porcelain stoneware. The advantage here is that the most varied decors can be laid. Mosaic is tough, high quality and yet easy to care. Porcelain stoneware tiles can be laid in a pattern that represent a motive. Floor tiles and wall tiles come through this way their versatility to use. It can be made with the color design and also the size, especially with the wall tiles, great accents can be set. Anyone interested in tile made of porcelain stoneware decides that you should first inform about the care. You should just be extra use detergent. With the porcelain stoneware mosaic you can let it shine in a rustic style. So that the antique look with precious glazes with a metallic effect. Especially the Italian taste is highlighted in an attractive way. The porcelain stoneware mosaic can be used as a wall tile in the bathroom or in Kitchens are attached. The classic rustic style can with precious decorations, which is a true to detail brings attention.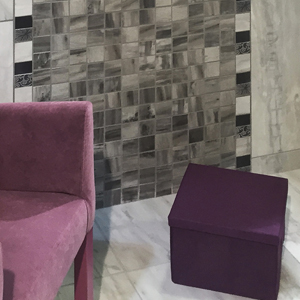 Porcelain stoneware as a stylistic device
It's the mix of styles
There is porcelain stoneware mosaic it in the sizes 2.5-2.5 cm and 5x5 cm, it is pre-glued on paper net (the tiles are also available in others sizes). The small tiles can be used as floor tiles or wall tiles can be glued, but also in combination with other materials in an attractive mix of styles. Who would like to give an exclusive painting for their bathroom they will lay tiles in wood look. Which is very similar to a wooden floor. The color is deceptively real close to imitated tiles. Tiles as floor tiles with a high-gloss look are very tastefully. With LED lighting the tiles get a great lighting effect. The wall tiles can be small or middle mosaic can be put together. Most wall tiles are in the bathroom and relocated in the kitchen. For such it is important for rooms to clean the wall tiles well are and can absorb water. Who want there wall tiles in outdoor areas, should be on pay attention to frost resistance. Porcelain stoneware wall tiles particularly noble. The manufacture insists on the best prepared raw materials. However, when laying, make sure that the mortar or adhesive is highly refined. A porcelain stoneware mosaic is always an eye-catcher, not only in the bathroom or in the kitchen, even on the outside walls they are doing well.