A decorative alternative
Using less handles giving old wall surfaces new designs.
Self-adhesive mosaic tiles
enchant your own four walls in a wonderful living ambience. Little one or large units get a new look. A self-adhesive
vinyl mosaic
attach themselves quickly, inexpensively and sustainably. Under beginners of the interior design their own creative realm. The use of artisans is not necessary.
Convincing properties for rich variety
Self-adhesive mosaic tiles offer manufacturers in different versions. Stand according to taste attractive shades, wonderful gloss effects or various optics to choose from. This type of decoration is suitable for living and sanitary rooms. Whether bedroom, kitchen or living area: With these self-adhesive artists get every interior decoration creative complement. Just note that

is self-adhesive mosaic tiles

neither for wet sections, still suitable for unpaved surfaces are.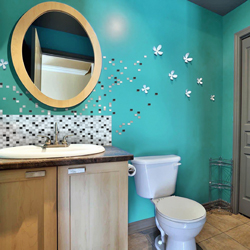 The individual tiles are in a coherent form as practical mats
self-adhesive mosaic tiles
average dimensions 30 x 30 centimeters. The material is flexible and adapts to the wall surface individually. As painted walls and tiled floors are suitable surfaces. Also stick
self-adhesive mosaic tiles
best on metal, wood, glass or plastic. These should be dry, dust and grease free. A intensive cleaning before applying the
vinyl mosaic
is recommended. It is recommended to use the intended area to be measured precisely in advance. In this way, the mosaic sheet need to be cut in advance if it´s required. The quick attachment of this decoration enables a quick implementation of your own ideas.
Self-adhesive mosaic tiles
find increasing acceptance in the professional world, as a additional grouting without exception not applicable.
Self-adhesive mosaic tiles and their advantages
The easy-care
vinyl mosaic
is easy to clean. A fine cloth and some water are enough to remove any contamination. Splashes of oil or wine immediately wiped off in the kitchen,
self-adhesive mosaic tiles
do not stain. Light soaps are used for emergencies. On use household cleaners with ammonia or abrasives to renounce. This will delight
self-adhesive mosaic tiles
for many years, without changing their appearance. Furthermore they can be left without problems even after a long time be removed. A simple hair dryer supports in this project. Of course, some also leave exchange mosaic tiles comfortably.