Looking for individual optics for your wall covering stainless steel mosaic would be right. These convince as border as well as a large area, whereby you can use them well in different rooms. Whether hallway, living room or kitchen and bathroom, with an individual stainless steel mosaic is sure to set accents for your home, for individuality and creativity stand.


Stainless steel mosaic is convincing optically and due to its excellent properties
It is obvious that metal tiles are mostly due convince with their excellent technical properties. These combine with special design advantages, which above all perfectly stage the play of light and shadow. Especially if you have a modern style of furnishing in your home with metal tiles in a wide variety of colors and shades just right. A resulting one Stainless steel mosaic takes the tones and shapes of the surroundings and reflects these impressions in combination with the incident light. This increases the effects of Mosaic tiles perfectly staged in a stainless steel mosaic will. It also fits perfectly into the environment in your home at where it is believed to be numerous others Furnishings or home accessories made of stainless steel meets. Faucets or equipment for one Tiled stoves are also simple furniture components namely quite popular and reinforce that unique flair that radiates metal tiles on the wall or floor. In addition to the convincing optical arguments technical characteristics of durability and simple Care of the stainless steel mosaic. In addition, the material is stainless steel chemical resistant.


Different materials
Depending on the type of stainless steel mosaic you use decide, there are other positive characteristics. Metal tiles made of aluminum, for example, are very UV-resistant and convince through the formation of a corrosion-resistant oxide layer on the surface, when it comes in contact with air. So you benefit from a kind of self-repair of the surface Damage to the stainless steel mosaic may occur. Even rust or the fact that a wall or floor covering lasts longer With this material, there can be no distortion Theme. Due to the low weight, the tiles can are simply designed and installed and are both thermal as well mechanically equipped with good properties.



Individual design
An individual stainless steel mosaic fits thanks to its timeless, sometimes even an elegant look in any environment. Perhaps but you don't want bright or shiny Metal tiles, but prefer to grab on tiles brushed metal surfaces back. These are commercially available as mosaic tiles with brushed or called satin surface. For the brushed surface is done with a grinder a micrograph that you can customize either run lengthways, crossways or crisscross can. You achieve a special effect for your Stainless steel mosaic, if you use metal tiles, their respective Grain is different on each piece. The result The resulting varied light refraction ensures fascinating gloss effects and an impressive effect for Your stainless steel mosaic.


Many advantages with stainless steel
Metal tiles are completely harmless to health and environmentally friendly as they are non-toxic and complete can be recycled. Will these mosaic tiles again recycled, it only needs five percent of the amount of energy, which is necessary for new extraction. The slightly higher ones Acquisition costs for an individual stainless steel mosaic amortize itself very quickly and above all by the fact that it have an impressive lifespan.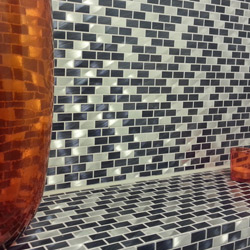 Our exclusive stainless steel mosaic can be put together in different configurations. In order to give your interior an exclusive look.

We would be happy to send you samples by Post to let you spot stainless steel mosaic on your own Rooms and with the existing lighting conditions can select.

Mosafil stainless steel mosaic is suitable in matt or glossy for the entire interior such as toilet, kitchen, Baths or other living spaces.

Our stainless steel mosaic is shipped with a protective film per mat, to prevent possible scratches and not to the precious metal effect affect.

Because of the first-class workmanship Stainless steel mosaic over brushed surfaces, and the precious metal is made with high-quality carrier materials Ceramics connected.

Thanks to the mosaic network, Mosafil stainless steel mosaics are easy lay and cut in various ways.

We offer stainless steel mosaic in the exclusive variants Stainless steel, aluminum or copper.