Stylish highlights can be get in bathrooms, kitchens or various living spaces, when a vinyl mosaic is used. No glue is needed to attach these wall tiles. The smooth surface of the vinyl mosaic ensures for a positive visual impression, attractive combinations of different colors can be used to apply self-adhesive mosaic tiles. The mosaic tiles are offered on practical sheets and can be opened very easily painted or tiled substrates. However, the surface should always be dry and clean. With help from a sponge, cutter knife, spirit level and silicone the vinyl mosaic is attached. The sheets can be cut to any size and glued.

Vinyl mosaics easy to attach
Self-adhesive mosaic tiles not only impress with their modern design, maintaining the wall tiles is also child's play. Usually a damp cloth is sufficient for stubborn people A mild all-purpose cleaner is sufficient for dirt. Well-kept have self-adhesive mosaic tiles with regular maintain a long lifespan. At some point the vinyl mosaic shouldn't more, then this can easily be done with a Hair dryer to be removed. The warm air helps that Pull the mosaic mat off the surface without damaging it. The self-adhesive vinyl mosaic comes in natural stone, metal or glass optics offered and embellished in a few steps glamorous focal points on the kitchen mirror. With these wall tiles can also be used in work, bathroom, living room or bedroom can be embellished. The self-adhesive mosaic mats are simply glued on and the edges are sealed with silicone.

Vinyl mosaic that has to be considered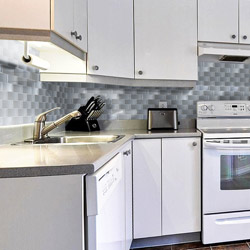 When sticking the vinyl mosaic, it is important to glue the first row straight, too the spirit level should be used. After the first row the other wall tiles are aligned according to this. Corners and edges are measured beforehand and the mosaic mats become tailored to fit. Even for the unexperienced hobby artisans can create a wall with the vinyl mosaic beautify.


Advantages of self-adhesive tiles:
- unlimited design options
- can be used for all rooms in the house
- are quick and easy to install
- no grouting necessary - glued tiles are durable
- easy and quick cleaning
- mosaic tiles can be easily replaced

Vinyl mosaic is not suitable for:
- Outdoor areas
- Wet areas
- for floors
- on plaster or concrete surfaces
- on papered surfaces
- on soft surfaces


Various design options
With just a few imaginable wall surface can be handled in a few simple steps new and decorative with the vinyl mosaic. Great and small areas can be stylishly designed, the vinyl mosaic can be inexpensive and Easy to attach. Attractive colors, beautiful gloss effects and different design provide optical highlights the interior design. The interior gets through self-adhesive mosaic tiles have a completely new look. With the right ones tiles can be deliberately set accents. The personal style of the residents of an apartment becomes so whole deliberately underlined and special home accessories perfectly staged. Self-adhesive wall tiles can be according to personal taste be chosen and attached. Opposite wall tiles the vinyl mosaic is a simple way, its own four To redesign walls while creating a surface get that easy and quick to clean.