Be creative with floor tiles
Nowadays, matching tiles not only serve as a covering for the floor, but also significantly enhance the entire home. At least if the floor tiles have been chosen well and blend in harmoniously with the rest of the living space. The current trends offer a large selection of floor tiles. Never before has the range been so rich in variants. There is a perfect floor solution for every room. Floor tiles are even used today to cover the walls and set accents.

Beautiful living through floor tiles
Whether square, rectangular, long or short. Floor tiles come in numerous shapes. This should be carefully considered before buying the floor tiles, as the shape is decisive for the effect of the entire room. The favorite of this time are tiles in large format. Edge lengths of up to 120 cm enable an optical foresight and are also used for walls. This type of floor tile contributes to the puristic room design and gives the home a graceful balance. With tone-on-tone grouting, you as the building owner support this calm appearance. Horizontal and transom formats give the so-called rod look and allow many patterns for laying the tiles. There are hardly any limits to creativity here. Tiles in small format can highlight or mark individual areas.
Art through floor tiles and wall tiles
The potential for artistic room design is limitless and therefore this type of tile is too preferred by many. With mini tiles you can decorate floors and walls in a unique way. If the small tiles still have an attractive decor, nothing stands in the way of an individual design. But it can also be smaller. Mosaics are the smallest tiles and are very popular in interior design. They are sanded and unpolished. The variety of colors is great and guarantees special design options. The small tiles are particularly popular in the kitchen and bathroom. The XXS tiles can accentuate walls and floors in a noble or playful way. There are even special specimens for wet areas that have an anti-slip surface. The small pieces are often used as floor tiles, especially in wellness oases, and should be laid very precisely here.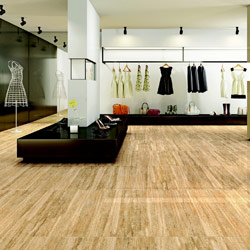 Discover trends - it's all in the tile
Tiles have been the first choice for flooring for decades. The robust nature makes them indispensable and the easy cleaning of the tiles is a pleasure for housewives and housemen alike. They are much more shock and scratch resistant than laminate and co and do not shy away from water with cleaning agents. There are no chemical vapors to fear from floor tiles. Ceramic floor tiles are therefore more beneficial to health than PVC floor coverings. Tiles last for many years and do not need to be renewed. A floor tile can also be quickly replaced if necessary, without the replacement affecting the entire surface. If you don't want to miss the grain of wood, you can use wooden tiles. These floor tiles combine the comfort of ceramic tiles with the warm design of wood. Timelessly beautiful, that's how floor tiles should be. So that you will still enjoy looking at it after years!
Discover the complete range in the category Floor tiles