Modern wall and floor tiles - attractive decor and high functionality
Floor and wall tiles are a matter of course for every apartment and home. But do you also know where the practical and decorative tiles come from?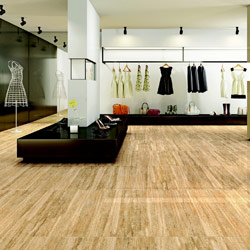 The history of tiles goes back a long way. Already around 2000 BC the floors of houses in the Orient were decorated with floor tiles. The precursors of the current tiles were made from fired and air-dried materials. The Romans also used floor tiles, which were mainly made of ceramic. After the fall of the Roman Empire, the practical floor tiles were temporarily forgotten and were replaced by screeds made of lime and gypsum mortar. It was not until the beginning of the 12th century that tile floors regained importance. Above all, craftsmen in France and England produced colorful wall and floor tiles, some of which were artistically painted. So it didn't take long before the attractively manufactured tiles in many colors and shapes found their way to Germany. Here, decorative tiles were initially used as a decorative element, especially in sacred buildings such as churches and cathedrals. Inspired by motifs from the Orient, artistic mosaics were created from individual wall tiles and floor tiles, which formed decorative ornaments. In the 21st century, floor tiles and wall tiles are no longer intended solely for decoration, the practical tiles have become an indispensable part of the functional furnishing of modern living spaces.
Floor and wall tiles - robust for everyday use

You are sure to have a tiled bathroom too. Wall tiles are particularly useful in damp rooms. The materials used for the floor tiles and wall tiles are waterproof. Daily bathing and showering is a challenge for materials, floor tiles and wall tiles can withstand moisture without any problems. In the kitchen area, too, where cooking liquids and grease are handled, the insensitive wall and floor tiles are the building material of choice to provide you with an easy-care environment. Tiles are therefore particularly easy to clean not only in domestic sanitary and kitchen areas, but also clinics and restaurants rely on the robust materials from which floor and wall tiles are made. Wall tiles and floor tiles are indispensable in areas where hygiene plays a particularly important role, such as in operating theaters or restaurant kitchens.


Tips for effective cleaning of wall and floor tiles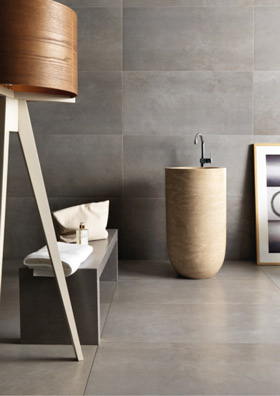 Wall tiles and floor tiles are considered to be insensitive and particularly easy to clean. This is not always the case. You should therefore take a few tips to heart in order to keep your tiles clean and beautiful for a long time. When used in sanitary areas, soiling of the floor tiles and wall tiles with lime and toothpaste splashes is particularly common. In the kitchen area, there are also annoying grease stains. Especially if you have light-colored tiles, stains are quickly noticeable and disrupt the overall picture in the premises. You should therefore regularly clean your floor and wall tiles and remove dirt and debris. Simple household remedies and non-aggressive special cleaners fulfill their purpose here and ensure that your floor and wall tiles are shiny and clean.
A common problem with tiles that are a bit older is the yellowing of the material. The best way to clean the surface of your floor and wall tiles is to simply use salt and a little turpentine. Salmiakgeist is a good means of preventing the tiles from becoming dull. Simply rub off and the wall tiles and floor tiles will shine with a new shine. The use of linseed oil or simple vinegar also ensures a shiny and clean surface for the floor and wall tiles. For effective cleaning of the floor tiles, simply add a splash of vinegar to the prepared, warm mopping water and the tiles will have a nice, shiny appearance.
In the case of stubborn limescale stains in the sanitary and kitchen area, it is helpful to use orange peel to let floor tiles and wall tiles shine in new splendor. Rub the affected tiles with the bowl, leave the whole thing to work for about 1 hour and then wipe the floor tiles and wall tiles with a damp cloth. In addition to the surface of the wall tiles and floor tiles, the joints must also be cleaned regularly. Some simple home remedies can also help here. The use of commercially available baking powder can be particularly effective. Mix the baking soda with a little water to a pulp. This paste is then applied to the joints, preferably with an old toothbrush, and washed off again. But ammonia is also an effective means of effectively cleaning the joints of your floor and wall tiles.

Wall tiles and floor tiles in the 21st century are no longer purely functional coverings. While a few decades ago there was little choice when it came to tiles and the decors were often reminiscent of hospitals, there are now a variety of attractive colors and motifs for particularly beautiful floor and wall tiles.
As one of the most popular floor and wall cladding options, modern wall tiles and floor tiles make a decisive contribution to positively shaping the living atmosphere. Glazed and unglazed tiles are available here. When choosing the suitable floor tiles, you should pay particular attention to robust quality. New wall tiles and floor tiles are usually an acquisition that should last for many years, but since the floor tiles are particularly stressed in daily use, a good and stable design is very important here. For indoor use, for example, stoneware floor tiles are suitable. If you need floor tiles for the outside area, e.g. for the terrace, you can choose matching stoneware or brick tiles. Outdoor floor tiles must meet special requirements. The materials used during production should be particularly hard-wearing and frost-resistant.
Regardless of whether floor tiles or wall tiles, for indoor or outdoor use, current tiles meet all requirements for functionality and attractive design. Now all you have to do is choose your very own personal model of the practical and attractive wall and floor tiles.

Your online shop offers a wide selection of floor tiles and wall tiles in a wide variety of decors and designs for your cozy home.