At the latest when the first offspring are on their way,
parents start thinking about furnishing their children's room. To make everything child-friendly is really not easy. Depending on their age, the kids have different demands and needs. The flooring in particular is crucial in creating a children's room in which the children feel comfortable and the parents also have fun. Tiles make life in the nursery much easier.


Tiles and porcelain stoneware - a traditional floor covering for children's rooms
Even in ancient times, tiles and porcelain stoneware were made from clay and fired in the Mediterranean region. The Romans were known for the mass production of floor tiles and the Moors found the way to provide the finished floor tiles with a glaze. Floor tiles, tiles and porcelain stoneware quickly spread throughout Europe and in the 19th century gave birth to an industry of its own, which is still dedicated to the production of floor tiles and porcelain stoneware using sophisticated techniques. In keeping with the spirit of the times, porcelain stoneware, floor tiles and tiles focus on variety. All conceivable forms of porcelain stoneware and tiles and an infinite number of designs are suitable and available as floor tiles for the children's room.

Tiles in the children's room - hygienic and healthy
Tiles and porcelain stoneware have a health advantage over other floor coverings than floor tiles. The material, which is hypoallergenic, does not release any outgassing substances that could pollute the room air after professional installation. In addition, the floor tiles can be kept hygienically clean without great effort. Tiles and porcelain stoneware can even be sterilized and disinfected if necessary. Floor tiles are therefore particularly advisable in children's rooms, where viruses, bacilli and co. Should not be given a chance.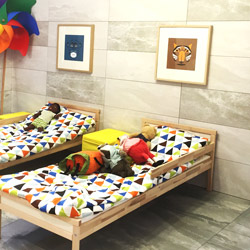 Tiles in the children's room - in daily use
Wherever children play, there are quickly all sorts of stains that spread out on the flooring. While stains like this are difficult to remove from a carpet, porcelain stoneware and floor tiles only require a few swipes to be clean again. On porcelain stoneware and glazed tiles, which are particularly suitable as floor tiles, stains cannot adhere. The glaze on porcelain stoneware and tiles prevents the liquid from penetrating. The simple cleaning will please every housewife.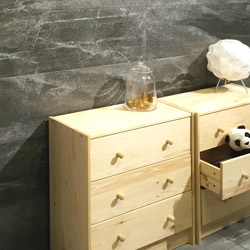 Colorful variety for the children's room with floor tiles
Tiles and porcelain stoneware are available in all possible colors and shapes, so that all kinds of patterns can be laid. Especially in the children's room it should of course be relatively colorful, according to the residents' sunny disposition. There are hardly any limits to your imagination. With professional skill, Mickey Mouse or a fairytale castle can also be laid on the floor. But a colored pattern also gives the children's room the appropriate setting for a real feel-good area.